David Hamill
Interviewed by
Roger Scott & Ann Scott
Aug 14 2009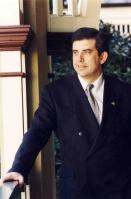 | Time | Summary | Keywords |
| --- | --- | --- |
| 00:00:00 | David Hamill outlines his family background and education at Bremer High School. He discusses the family socialisation which shaped his political views and his father's frustration at not having formal qualifications and how he was encouraged to pursue a university education. He joined the Labor Party in 1975. | 1983 election, Bob Menzies |
| 00:04:38 | David Hamill elaborates on early influences on his political career and his role as State President of Young Labor. He recalls the invitation from Bill Hayden to his economics class during his final years of high school. He recalls heckling Llew Edwards with several of his class mates. | Bill Hayden, Caulfied Report, Communist Manifesto, Jim Cairns, Whitlam Government 1972-75 |
| 00:07:43 | David Hamill recalls his initial meeting with Vi Jordan while on holiday at the Gold Coast, and talks about his early days at the University of Queensland. He joined the Labor Party in 1975 where he worked on election campaigns. | Bill Hayden, Vi Jordan |
| 00:09:54 | David Hamill comments on his limited involvement with student politics at the University of Queensland where he attended some demonstrations, including the infamous demonstration which led to a woman being assaulted with a baton under the Grey Street Bridge in Brisbane. | student unionism |
| 00:10:37 | David Hamill discusses his endorsement as a Labor candidate for parliament, following his return from Oxford in 1981 and his discussions with another candidate who was also hoping to run. | 1980 election, Bob Gibbs, Ipswich |
| 00:13:37 | David recalls his election in 1983. After returning from a Rhodes Scholarship, he worked as a part time tutor at the University of Queensland. He describes how he adopted a scientific approach to the campaign, mapping the needs of the electorate to create an informed understanding. | 1972 election, 1983 election, campaign strategy, Llew Edwards |
| 00:16:13 | David Hamill outlines the strategies he used to win the 1983 state election including involvement from the branch and door knocking. He discusses the turmoil surrounding Liberal leadership and the coalition between the Liberal and National parties. | campaign strategy, Coalition, Joh Bjelke-Petersen, leadership, Llew Edwards, Public Accounts Committee, Robert Sparkes, Terry White |
| 00:21:10 | David Hamill discusses his time in Opposition following his election. He explains some of the tensions involved in the Labor Party, due to factions and the federal intervention into the Queensland branch of the Labor Party. | Bob Gibbs, Denis Murphy, Kenneth McElligott, Kevin Hooper, Terry Mackenroth, Wayne Goss |
| 00:24:49 | David Hamill outlines the old division between the AWU and the Trades Hall alignment and the affect the federal intervention had on both these factions. He talks about the gradual reform that the Labor Party was undergoing during this period. | Bill Glasson, factions, Wayne Goss |
| 00:27:00 | David Hamill recalls the focus that he and fellow colleagues put on Russell Hinze with the development of the Special Hinze Investigate Team (SHIT). | Russ Hinze |
| 00:28:30 | David Hamill discusses the 1986 election and the difficulties associated with this election. He comments on the Labor Party leader at the time, Neville Warburton, and the issue of electoral redistribution. | 1986 election, electoral redistribution, Keith Wright, Neville Warburton, SEQEB dispute |
| 00:30:24 | David Hamill discusses the internal Labor Party politics after losing the 1986 election and the push from within the party to modernise the party's image. He comments on the appointment of Mike Ahern as premier and the Fitzgerald Inquiry. | 1986 election, corruption, factions, Fitzgerald Inquiry, Mike Ahern, Neville Warburton, Police |
| 00:34:22 | David Hamill reflects on missing out on preselection for the federal seat of Oxley. | 1988 federal election, 1989 election, campaign strategy, Keith De Lacy, Pat Comben, Wayne Goss |
| 00:36:51 | David Hamill discusses his range of shadow portfolios, including education, family services, youth and ethnic affairs and education. | unions |
| 00:38:20 | David Hamill discusses the 1989 election atmosphere and the events that followed. He comments on the strategies and styles of the parties and their leaders. He talks about the role of Keith De Lacy, Pat Comben and Paul Braddy in presenting a 'modern face' for Labor. | 1989 election, Angus Innes, campaign strategy, Keith De Lacy, Pat Comben, Paul Braddy, Russell Cooper, Wayne Goss |
| 00:42:30 | David Hamill discusses some of the campaign strategies with a focus on the caucus executive group who worked on policy development. He outlines the role of the caucus executive and how he came to be the caucus secretary. He outlines the role of shadow ministers in campaigning for marginal seats. | Bill D'Arcy, Bob Gibbs, campaign strategy, Kevin Rudd, Kitchen Cabinet Group, Terry Mackenroth, Tom Burns, Wayne Goss |
| 00:47:10 | David Hamill discusses the impacts of the Fitzgerald Report with regard to electoral reform and public service reform. He comments on the public perception of commitment to reform by Mike Ahern and Russell Cooper. | Criminal Justice Commission, electoral redistribution, Fitzgerald Inquiry, Public Accounts Committee |
| 00:50:10 | David Hamill discusses the early days of the Goss Government and the restructuring involved to form government. He recalls early conversations with Wayne Goss regarding his commitment to strengthening economic and business growth and the ministry. He comments on the previous National Party structure. | Local Government Department, Main Roads, Queensland Rail, Transport |
| 00:55:52 | David Hamill comments on the mobility of the SES across departments as part of the public sector reform and the advice that the Premier received regarding this type of reform. | Fitzgerald Inquiry, Glyn Davis, Leo Keliher, Peter Coaldrake, Public Sector Management Commission, public sector reform, Wayne Goss |
| 00:57:22 | David Hamill discusses the appointment of his director general and the new departmental orders that were in place and various reshuffling of positions and people. | Dick Wharton, directors general, Geoff Stevenson, Ross Dunning |
| 01:00:55 | David Hamill discuss the various approaches of senior public servants during the initial ministry reshuffle. | Family Services, Geoff Stevenson, Graham Hartley, Yvonne Chapman |
| 01:04:25 | David Hamill discusses the nature of the relationships between ministers and department staff and describes the mood upon his appointment as Minister for Transport following the successful Labor election win. He describes the appointment of his ministerial staff and the restructuring of the Department of Transport following his appointment as minister. He comments on the gulag. | Don Lane, Greg Goebel, Gulag, Transport |
| 01:08:41 | David Hamill describes his dealings with other departments and the limited contact he had with other ministers outside of cabinet and compares this to his former relationships with the shadow ministry. | |
| 01:10:40 | David Hamill outlines the various roles and appointments of ministerial staff. He discusses his relatively large number of staff. | ministerial staff |
| 01:12:50 | David Hamill explains the selection and appointment of ministerial staff and his role in this appointment. He discusses the role of ministerial staff and how various minister's views carried more weight than others. | Bill Hayden, John Algate, ministerial staff, Rob Whiddon |
| 01:15:49 | David Hamill further explains his working relationship with his Director General of Transport. He explains how he became Minister for Education following a cabinet reshuffle. | directors general, Education Department, Frank Peach, Pat Comben, Transport |
| 01:18:00 | David Hamill discusses his new appointment as Minister for Education and his relationship with department staff. He explains how he used outcomes of a Strategic Planning & Professional Development workshop to explore the culture of the department. | Education Department |
| 01:19:12 | David Hamill outlines the development of policies to support the implementation of the GST. | COAG, GST |
| 01:22:15 | David Hamill outlines the remainder of his political career following his appointment to the Education Department. He discusses the Mundingburra by-election and how Peter Beattie became leader of the Opposition. He recalls conversations between himself and Peter Beattie with regards to his position within the Beattie Government. | Jim Elder, Keating Government, Keith De Lacy, Mundingburra by-election 1996, Peter Beattie |
| 01:29:02 | David Hamill discusses the benefits of having an Opposition who have served as cabinet ministers. He outlines the role of the Opposition in closely monitoring the spending by the government. | Cabinet, Joan Sheldon, Opposition |
| 01:31:19 | David Hamill discusses his appointment as Treasurer. He explains how the Borbidge Government employed directors general on contract. He recalls approaching Gerard Bradley to come back to government if the Labor Party were re-elected. | directors general, Doug McTaggart, Gerard Bradley, Henry Smerdon, Queensland Investment Corporation |
| 01:35:43 | David Hamill outlines policy decision making processes and the various ways governments have used cabinet to make policy decisions. | Beattie Government 1998-2007, Cabinet, Goss Government 1989-96 |
| 01:39:00 | David Hamill discusses his decision to retire and the impact of his parliamentary career on his home life and reflects on his time in parliament. | Peter Beattie, work life balance |
| 01:45:01 | David Hamill explains how the decision to close some rail branch lines undermined the path he was taking with Transport. | Transport |
| 01:48:23 | David Hamill talks about the Gold Coast Motorway and the impacts of this proposal on the 1995 election. He maintains that this development was the right decision, although unpopular. | Gold Coast Motorway |
| 01:49:52 | Interview ends | |
Further reading:
Ross Fitzgerald and Harold Thornton, Labor in Queensland: from the 1880s to 1988, UQP, 1989
David Hamill
Biography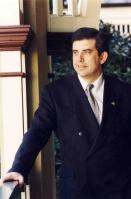 David Hamill represented the electorate of Ipswich for the Labor Party from 1983 to 2001. He held ministries in both the Goss and Beattie governments, including Transport, Education and Treasury.
Born 18 September 1957, David Hamill attended Silkstone State School, Bremer State High School and the University of Queensland where he was awarded the 1979 Rhodes scholarship for Queensland, going on to further studies at Oxford University.
Hamill joined the Australian Labor Party and was an active member of Young Labor during the years of conflict in the late 1970s when many old and new party members were seeking change and reform. In 1978, while he was President of Young Labor, that organisation called for the National Executive to take action to restore the Queensland Branch to orderly administration.
Hamill became a tutor/lecturer at the University of Queensland before being employed by the Labor Party's federal Parliamentary Leader, Bill Hayden, member for Oxley, as a Research Officer, in 1982-83.
In December 1983, Hamill successfully sought election for the seat of Ipswich, where he remained the member until his retirement in 2001. He was amongst an influx of new Labor Party members of parliament who, in 1989, formed the first Labor Party state government in Queensland for over thirty years, under Wayne Goss as Premier. He served as Minister for Transport and Assisting the Premier on Economics and Trade, and then as Minister for Education until the government fell in 1996. When Peter Beattie led the Labor Party back into government, Hamill was Queensland's Treasurer from 1998 until 2001.
David Hamill chairs the Prime Infrastructure Group, a position he has held since 2008. He also chairs the Australian Red Cross Blood Service, is a member of the University of Queensland Senate, is an Adjunct Professor at the University of Queensland, and chaired the Distribution Committee of the Premier's Disaster Relief Appeal to cope with the January 2011 floods and the impact of Cyclone Yasi.
On 1 January 2001, Hamill received a Centenary Medal for his distinguished service to the community and public sector. He became a Member of the Order of Australia on 8 June 2009 in recognition of his service to the Parliament of Queensland, the community and business.
Copyright © Centre for the Government of Queensland, the University of Queensland, 2011.
The copyright holder of this material grants users permission to access the material on this website for the following purposes only: research and study, education, other non-commercial and non-public uses.