Symposium Part 3 Women
Interviewed by
Nov 03 2011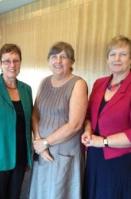 The Queensland Speaks Symposium, held on 3 November 2011 at the University of Queensland, gathered together about 30 thinkers and practitioners involved in Queensland's political history.
Part 3 Women in Government
In this session the role of women in government is discussed from a number of perspectives. Lesley Clark, former member for Barron River and academic, discusses the importance of affirmative action in encouraging more women members of parliament. Robin Sullivan discusses her role in the public service from school principal in Tully to Director General. Leigh Tabrett discusses her roles in the public service and some of her experiences. The session concludes with Joan Sheldon sharing some of her experiences and general discussion on the role of mentoring.
Note that due to the symposium format, on occasion part of a question or comment from the audience may be temporarily inaudible and that the audio has been recorded through a single microphone.