Symposium Part 1 Oral History
Interviewed by
Nov 03 2011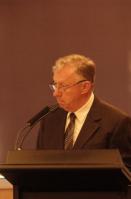 The Queensland Speaks Symposium, held on 3 November 2011 at the University of Queensland, gathered together about 30 thinkers and practitioners involved in Queensland's political history.
Part 1 Oral History
In this session Danielle Miller delivers a reflective paper on the practice of oral history. This is followed by a discussion from other interviewers on their approach to oral history throughout the Queensland Speaks project. General discussion is concerned with the varying approaches to oral history in Queensland.
Note that due to the symposium format, on occasion part of a question or comment from the audience may be temporarily inaudible and that the audio has been recorded through a single microphone.